Happy Wednesday Lash Lovers! The world of lash extensions, and making all the decisions that come with it can be anything but easy; from lash mapping styles to the type of adhesive you use, everything is always a jumble of choices, and it can be overwhelming if you aren't sure which choice suits you and your clients best. Today, in part 1 of a 2 part post, I'm going to help take the guesswork out of one of those many choices in our world to beatification – determining lash extension thickness and length.
Have you ever had a client come in that whips out her pinterest page, to show you a fabulously thick russian volume set, that is so dense that sunlight can't even penetrate those tightly packed fans? Only to look down at your canvas and see sparse, thin blonde lashes peering back at you? This is a problem as old as time for us lash artists. But who can blame our clients? They aren't trained in lash health, and aren't usually aware how heavily impacted the final result is on what our starting canvas looks like.
As professionals, it's our job to educate our clientele on lash health, and to manage their expectations and reality of what their specific lash extension sets can look like. Now you may be thinking "But Janelle, if I don't understand lash health and expectations, how in the world am I going to educate my clientele on this?" Well Lash Babe, I got you covered. I'm here to give you the 411 on all things lash health and what you should and shouldn't be promising your clients.
Lash Health
Determining if your clients are a good candidate for lash extensions is arguably one of the most important aspects we as professionals bring to the table. You have to look at all things, like allergies, client commitment to fills, lifestyle, ect. But let's say they check all the boxes, but you aren't sure if their lashes themselves are a good candidate. Lets drive deeper into this aspect of lash extensions and go over the red flags when it comes to lash health. When you look down at your clients bare natural lashes ask yourself these questions- Do I see patches of little to no growth? Do I see oil, makeup and buildup at the lash line or are their lashes very thin? All these questions will help guide you in the decision to lash or not lash your specific client.
Patches of No Growth
Do you see patches of no growth or very short lashes? This is the most important question you can ask yourself when it comes to lash health. If you are seeing patches of no growth this could mean that they pick their lashes, which is an absolute no when it comes to lashes, or that they have had lashes in the past that weren't properly placed and caused damage that hasn't healed yet.
On the flip side, if you're seeing lashes, but they are very short, this means that these lashes are in the anagen phase of growth. This phase of growth is where the lashes are the most delicate. You want to avoid lashing these lashes as the weight of the lash extensions will be too much for the new growth and can cause permanent damage to the lash follicle. So, if you're seeing more anagen than telogen (lashes that can be extended) then you want to send that client home until those lashes can grow long and strong before giving them a beautiful full set of lash extensions.
Makeup Buildup
Do you see oil and makeup build up? Are their lashes extremely thin? If you look down and see build up at the base of the lashes, this means that your clients aren't washing their lashes properly. Not only can this lead to poor retention, but worse case scenario, this can cause infection and permanent damage to the eyelid and follicle. If your clients aren't able or willing to follow proper at home care, you should use your professional opinion and send them home until they have the time to keep your work looking and feeling fresh and healthy between sets. The look and feel of the lashes also play a role in being a good candidate. If your clients are asking for thick volume lashes, but they have extremely thin lashes, lash extensions are not the right choice for them. Most lash extensions will weigh their natural lashes down, causing damage and poor retention.
Healthy Lashes!
If you look down and see clean, thick lashes mostly in the telogen phase, you and your client are in luck! This is the perfect candidate for lash extensions. So now that you know who to lash, let's take a look at how to properly choose the length and thickness of your extensions to keep those lashes strong and healthy for years to come.
Picking Lash Extension Length and Thickness
In the perfect world, you could give every client the thickest and longest lash set they want. But, this just isn't the case, and it's our job to be able to determine what length and thickness of lash extensions will keep those natural lashes healthy and strong. If you always keep my next two tips in mind, you'll never have to stress about making the right decision for your clients again.
Lash Width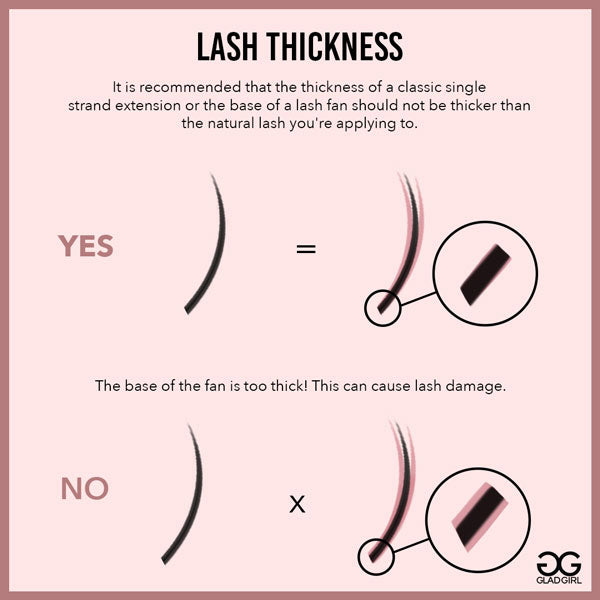 Keep your lash thickness only slightly thicker than the normal lash, and no more thick than double their natural lash thickness. I like to place an extension under my clients natural lash, directly where I would place it if I was actually adhering the lash to my clients natural lashes. If I see the lash protruding from both sides of the natural lash, this extension is too thick, I'll continue sizing down in thickness until I barely see the extension on either side of the natural lash.
LASH WIDTH PRO TIP!
Keep your lash thickness only slightly thicker than the normal lash, and no more thick than double their natural lash thickness.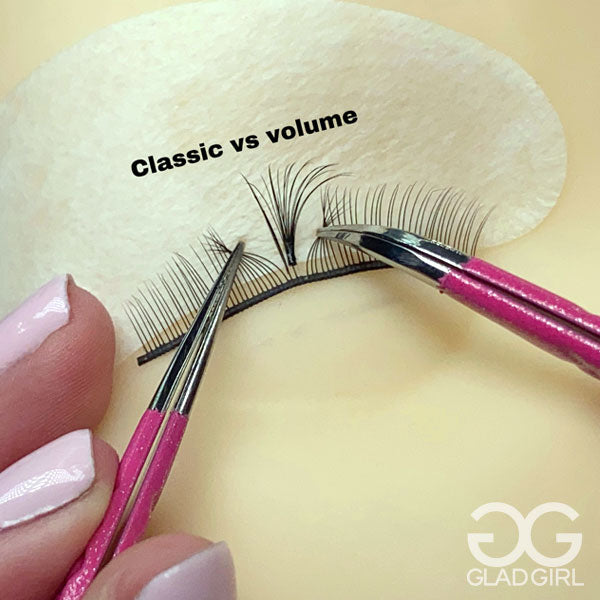 Lash Length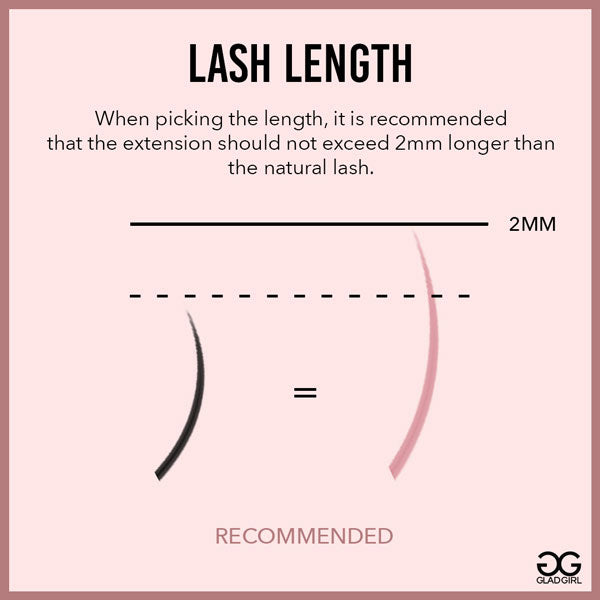 To help keep the natural lash in prime health, as well as get the best retention rates, be sure to use the proper length of extensions. A good rule of thumb to follow is to not go over 2 mm in length above the natural lash length. You can determine natural lash length by simply measuring the lashes prior to the start of your full set to determine that length tray you should reach for. For example, if you measure your clients' lashes and they naturally have a 10 mm lash, you'll want to reach for 12 mm or less to keep those lashes in tip top shape. While the 2mm guideline is what's healthiest, ultimately you have to balance health and client satisfaction, and that if your client has healthy, strong lashes, longer lengths are acceptable.
So there you have it lash lovers, the tried and true tips and tricks to make sure you are always keeping your clients natural lashes strong and healthy for years to come. Just remember, you are the professional and you are the one who has trained hard and learned how to properly determine who is right for lash extensions. If you have a client who is determined to get lashes, but they just aren't right for them, trust your professional opinion and instinct, and explain to them why it's best to forgo lash extensions at this time. You are their best lash advocate!
UPDATE! Checkout my follow up post that goes deeper into lash weight calculations here.
Do you have any other tips and tricks in determining the best approach to length and thickness for your clients? If so, let us know in the comments below!
Until next time,
XOXO J