Today, I want to bring you a BROW and RADIANCE muse from the one and only, Selena Gomez. I stumbled across this makeup inspo on Seventeen Magazine's Instagram feed and wanted to share the love.
Here is Selena Gomez lighting us up with an energy that is full of all things spring and summer playfulness.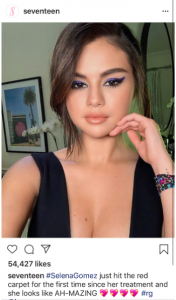 Here's how to achieve the look starting with the brows.
The Brows
Blessed with a full brow like Selena or not, here's how you can achieve this brow shape.
Step 1:
Use the GladGirl Be Brow Beautiful pencil in your desired color.
Make soft hair directional strokes with the pencil. Instead of arch shaping, this brow shape is more of a straight bottom line along the edge.
Step 2:
Next, when brushing the brow with the GG pencil, don't be afraid to be aggressive with the wand brushing. Direct the hairs and blend the pencil to soften your strokes.  A note for thinner brows: Try brow extensions to create close-up, natural enhancement.
Now, to the eyes!

The Eyes
San extensions or wish to restyle current lashes –follow these steps to achieve Selena's bright eyed and bushy tailed look.
Step 1:
Get the flare lash that blows all other flare lashes out of the water when it comes to lightweight-natural-beauty: Flare lash delicates by Glad Lash!
Step 2:
Create a wing with purple metallic eyeliner to complete the look. Here is one at Maybe it's Maybelline affordability in the shade of cosmic purple! Or, instead of purple, you could try a bright pop of blue with GladGirl's midnight blue liquid liner.
Finish off with a smudge-proof black liner to line the inside of the top and bottom lid.
Look Like a Living Goddess!
Selena chose a regal touch of simplicity by matching nude lips and nails with this bright eye! Play with the look however you want and let us know how close you can get it to this captivating look by Selena.