Summer is all about soaking up as much sand, sun and surf as possible, and the last thing anyone wants is to be spending those sun shining days at the salon. Your clients still want to look like the summer goddesses they are, so why not give them brows that came from the Golden-Ray Gods themselves? Brow lamination has become the go to service in the last few years, and for good reason. This service gives your clients lifted "soap brows" in under 30 minutes.These brows will last anywhere from 4-6 weeks and can also be paired with a brow tint to finish off the look.
Check out my video below on how quick and simple this service is, making it the go to salon upsell this summer.
The Perfect Add-on Service
Brow lamination is the perfect service to upsell to your clients if they're already in the salon for lash extensions or a lash lift, and depending on which service you're already providing to your clients, it may add very little extra time to your appointment. This is a great selling point if your clients are looking for effortless summer beauty that will get them in and out the door in record time. This service can be priced anywhere from $50-$100 depending on your location, and if you're tinting your clients brows as well. If you combine that with the fact that this service on average takes as little as 20-30 minutes, it adds up to be a product upsell that you just can't pass up.
The Best Eyebrow Lamination Kit
I tried out GladGirl's Brow Lamination Kit, and I can confidently say this kit is the best I've tried (and your girl is a brow connoisseur). This kit is not only easy to work with, but it also has low fumes meaning it may be the option for you if you or your clients are sensitive to smells of other brow lamination kits. This kit comes with it all, ranging from the brow glue, lift and lock to all the brushes, combs and wands you'll need to give your clients the brows of their dreams. Remember, because this is a chemical service, it's always recommended to do a patch test at least 48 hours beforehand, to ensure that they have no sensitivity to any of the ingredients in the kit. It may be a pain, but keeping your clients best interest front and center will keep them choosing you for all their brow lift needs for years to come.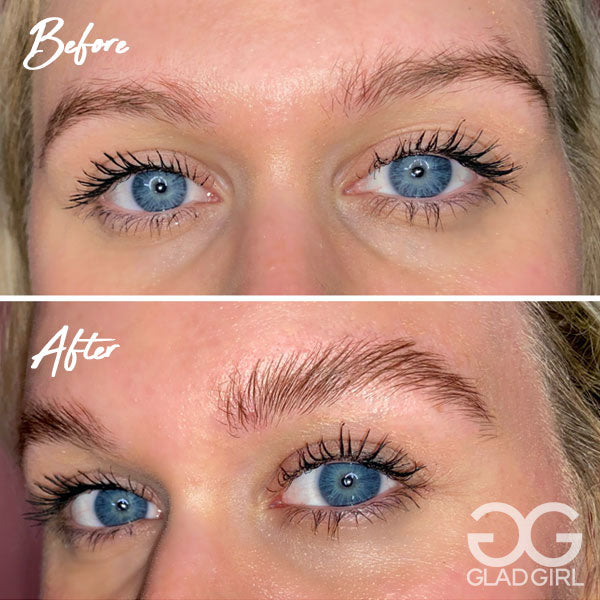 As always, this product is intended to only to be used by licensed cosmetologists, estheticians and beauty professionals who have completed training in brow lamination. Have you tried this growing summer trend? If so, do you offer it to all your clients who are good candidates for the service? Let us know in the comments below!
Until next time,
XOXO J