It is that auspicious time of year to let you and your goals blossom. If you are alive, you are a creative person – the question is, what would you like to create for yourself? I've collected thoughts from the experts on how to boss like a babe like never before this spring!
Here are my coaching tips as you lead yourself to success in the beauty industry!
1. Be Eye Beautiful
EYE contact is key! Adorning the eyes with lashes and makeup decorate the windows to our souls, which is why Glad Lash has a Be Eye Beautiful set to embrace this motto. But there's more to our eyes than how aesthetic they look. Last year, I took a class where I learned about eye contact. In the lesson, everything came back to our desire for connection and authenticity – something that can be done through the eyes. With that being said, I present to you my teacher's communication tip:
The Eye Contact Method
Look into someone's left eye when speaking to them. Why? Based on the concept of Yin and Yang it's believed that our right side is our masculine or giving side (the Yang) and our left side is our feminine and receiving side (the Yin). So gazing at someone's left eye is known to make them feel the most at ease, giving that person the optimal chance to understand you clearly.

2. Reach Great Heights
"The measure of our lives is not determined by what we achieve for ourselves; it's determined by what we share, give, and contribute to others." -Marie Forleo B School
Marie Forleo understands the future of business, and luckily, tis the season for her B schools! Have your art mastered and ready to share it with the world? B School is the most powerful experience if you want to activate and actualize your purpose. Check out Marie Forleo B-School to see how you can change your life!
3. Choose High Vibration Food = Ease of Being
Check out boss babe and boss babe teacher Danielle Laporte giving testimony to the difference habits make when fulfilling our desire for joy: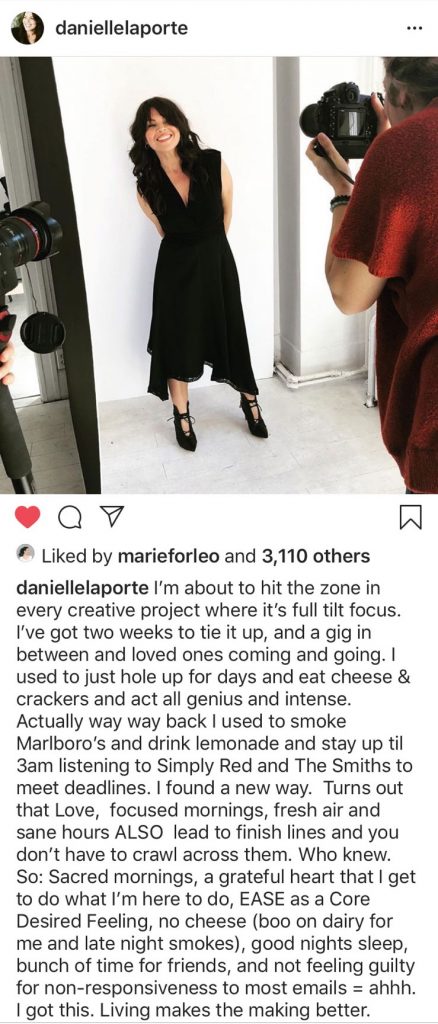 Never underestimate the power of love and healthy food to nourish the body!
Do you feel called to integrate any of this into your life? Already living your best life and have tips for your community? Let me know in the comments below. <3 xo