I have noticed that a lot of newer lash artists have been reaching out for tips and tricks to help them get better at the practice of lash artistry. First of all, Rome wasn't built in a day – your work will need improvement along the way. You will need to apply many sets of lashes before you feel great about your work. So here are a few hot tips to help you gain your confidence and improve your lash applications.
1. Keep Lashes Clean
Always start with a perfectly clean lash line. If the lashes aren't squeaky clean when your clients arrive, you need to clean the lashes prior to application.

2. Determine the Right Size and Fit 
Evaluate your clients bone structure around the eye area. If the client has high cheekbones or small eyes, a mini gel pad may be the best bet. The full-size gel pads can wrinkle or not lay flat and create a bulge, making it difficult to get at the lashes. If you don't have the mini gel pads, you may cut the full size to better conform to the eye area for these clients. 
3. Trouble with Stickies
If you have trouble with stickies, you can use the frosted type scotch tape over the gel pads and tape down – this frosted tape will not stick to the glue like the paper tape or gel pad. Just a little flick of the lash and the lash will release from the tape.
4. When in Doubt, Go Natural
When in doubt, follow the natural growth of your client's lashes for shape and styling. Shorter, outer, and inner corners – longest lengths are usually mid-eye to just off center. When you have done many sets, you will be much more confident with styling.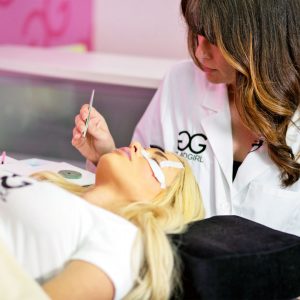 5.  Beware the Waterworks
If the client's eyes are watering, you must STOP what you are doing and address the issue immediately. Usually, it's when we are checking for stickies or the client has opened their eyes a bit. Check the pads and tape to make sure there is nothing touching the eye. This can cause a scleral abrasion if not taken care of immediately.
6. Stand Extensions Straight Up
When you have a client who does not have straight lashes, attach the lash extension at the base of the natural lash and stand that extension up straight. With this type of lash, it's difficult and tedious, but with patience and a steady hand, you can create a masterpiece.
If you are new to the lash community and still need help learning how to apply eyelash extensions, check out our new series on the Classic Application of Eyelash Extensions here on the Glad Lash blog!