If you're anything like me, you are attached to your favorite tools. Heaven forbid a clumsy drop that results in bending them out of shape! Or if mid-lashing they get sticky with an invisible spot of glue!
Lash Life Hacks for Your Tools
Getting an invisible blob of glue on the tips of your tweezers can be frustrating, especially if you're a newbie starting out and finding your rhythm. When this happens – or when a tweezer tip gets bent and stops grabbing well – time is usually of the essence! I don't know about you, but I don't always have an extra pair sitting beside me. I've got a couple of tips for you that have been absolute life hacks for me!
1. Removing Glue Spots
Very simply, I intertwine my tools, squeeze them together gently and slide along each other to the tip. It kind of looks like knife sharpening! Be sure not to squeeze too hard when removing the glue to avoid bending the tips more outta whack.
Always keep in mind, there is no substitute for Barbicide for real cleaning. The quick tip above is just for when you are mid-appointment and don't want to lose momentum 😉 Sometimes removing excess glue with acetone and cotton isn't the handiest go-to when every minute counts. Your best case scenario is that you already have a second set of tools you love at the ready!
2. Reshaping Tweezers After an Accident
To refine the tip grip after a drop, hold the damaged tweezers closed. Use another pair of tweezers where the steel is thicker to squeeze out any bends. This method has saved bent tweezers that I thought were ruined!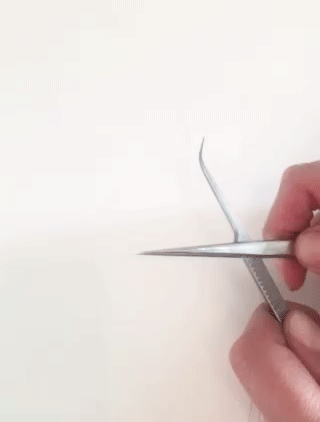 Favorite Tool of the Moment
I love this set of German stainless-steel tweezers by Glad Lash. They are extra lightweight with a ribbed grip. I'm currently keeping doubles on hand. Right now, I'm using the curved tip in my right hand and the angled tip (upside down/tip down) in my left hand.
I hope these tool hacks are going to come in handy for you next time you run into tweezer trouble. Let me know in the comments section below what tools you're rockin' and why you love them! Till next time 😉