Who doesn't want bold, beautiful eyebrows that stand out and frame their eyes? Nothing is subtle or shy about brows these days… They're hot, hot, hot!
There are many options for both shaping and building up brows. Perhaps the greatest benefit of professional brow enhancement is the power to dramatically change how your customers see themselves in a short amount of time. You have the chance to be a true dream maker.
Now is a fantastic time to explore the wonderful world of brows and start offering brow services to your clients. Brows are an easy upsell, and are natural add-ons to your eyelash extension business. The possibilities are numerous. You can also sell eyebrow makeup, brow pencils, brushes, gels, and highlighters and concealers that bring out the eyebrows.
I've even found that some customers really want to push the envelope and add rhinestones, glitter, color and crystals, and the most illuminated highlighters you can find. Most clients, however, are happy if their eyebrows are groomed and shaped to stand out and flatter their eyes and face.
Trends in eyebrows are always changing, but the current trend is full and lush. Forget thin and skimpy brows from the 90s. Now, you may have customers come to you with a wish for super thin brows, but you're the eyebrow expert, and if you can, encourage them to go full and bold!

How to Best Shape Brows
Let's get into the first half of an eyebrow service—shaping. Every face is different, as is the natural shape of the brows. The best shape often comes down to how little or how much eyebrow your client has. Many women have over-tweezed throughout the years or have very little to show for brows because of genetics or age. Nonetheless, when a client comes to you with very thin brows there are still specific eyebrow shaping rules you can use to achieve the most flattering look.
I always recommend using a good standard eyebrow pencil to draw the desired brow shape on the customer before you begin. Follow these three basic guidelines to shape perfect eyebrows:
A. Take a straightedge, such as a ruler or pencil, and measure vertically up from the center of the nostril to the eyebrows. This marks the natural beginning of the inner edge of the eyebrow.
B. For the highest area of the brow, which is called the arch, measure from the outer edge of the same nostril to the outside edge of the pupil (black part) while your customer is looking straight ahead at you. This will mark the highest point of the eyebrow arch.
C. Find the end of the brow, which is called the tail of the eyebrow, and measure from the outer edge of the same nostril to the outside corner of the eye. Now you have both the beginning and the end of the eyebrow marked.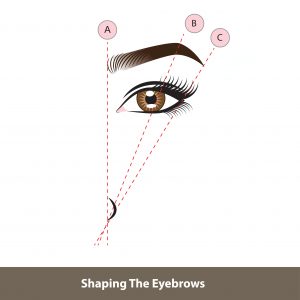 Connect all three guideline points with an ultra-fine eyebrow pencil, like our Be Brow Beautiful Retractable Micro Pencil, and sketch an outline of what the brows will look like. You will want to show your creation to your customer to get their approval before you begin.
After the brow shape is created, you'll want to start with the cleanup: remove any hairs that are outside of the desired brow shape. You have several options for this step. If there are only a few hairs outside the shape of the brow, tweezing is the best method for removing them. Make sure you have a good pair of professional slant nose tweezers. Threading and waxing can accomplish this same task depending on the sensitivity of your client.
Waxing is the quickest method in most cases. You can get a very accurate shape with clean brow lines using either a soft or hard wax. Glad Lash offers an excellent soft wax designed specifically for eyebrow waxing. You should always ask and never wax if they are on Accutane, Retinal, or using other acids on the eyebrow area.
Certain clients prefer threading as the method of hair removal, particularly if they are sensitive or on one of the medications mentioned above and cannot be waxed. Threading is also preferable to tweezing if they have a lot of brow hairs outside the shape you've designed. Make sure you use a cooling solution such as witch hazel to calm down any redness that may occur during these services.
Once cleanup is complete, use your micro pencil to fill in the brows with featherlike eyebrow hair strokes. This will top off the look so that brows appear as bold and full as possible.
Semi-Permanent Solutions
Brow pencils work great for everyday touchups… but they aren't a permanent fix for sparse brows. Clients looking for more semi-permanent solutions have some options to choose from, namely eyebrow extensions and microblading.
Eyebrow extension application is similar to eyelash extension application. Existing eyebrow hairs are extended and shaped with synthetic individual eyebrow extensions. The eyebrow extensions are individually applied with a medical grade adhesive specifically designed for bonding with existing hair and skin.
Eyebrow extensions can last from several days up to two weeks, but this is a service that needs to be maintained on a regular basis to keep your client's eyebrows looking on point. Glad Lash offers a full range of eyebrow extension colors, products, and training.
Microblading is a fairly new and innovative semi-permanent makeup tattoo for eyebrows. This technique is done by creating natural-looking hair-like strokes using a very fine blade to deposit pigment into the epidermis. This tattoo will create a more permanent eyebrow. Microblading requires extensive certification, training, and practice. Eyebrows will last anywhere from one to three years, and results will vary.
Join the Evolution of Brows
With all the different options available to us now, eyebrows have never looked so good. These services can be a great niche for your business or the perfect new add-on service. Certainly, developing your brow talents will help your business blossom, while staying on-trend and making dreams come true!