Rebooking your clients is one of the most important steps you can take to ensure your future income. This simple and easy process saves you time, and can bring your clients in more regularly. In this article, we will discuss the common excuses that prevent you from rebooking clients and increasing your profits, and how you can overcome those fears.
I will share with you some pointers on what to say to your customers to get them back in your chair sooner. And, we will look at how much of your year you can aim to get pre-booked. I think you will be surprised! Don't forget that regular visits from your clients creates a better relationship, resulting in more trust. There is just so much benefit to be had from rebooking your clients!
Ten Excuses You're Making That Are Holding You Back From Financial Success!
I have heard all the excuses why salon professionals just don't want to rebook. Let's take a look at those reasons, and go step-by-step through these roadblocks to success:
1. My Clients Know How To Get Ahold Of Me If They Want To Book An Appointment
It's all well and good that your clients know how to get in contact with you to book an appointment, but it takes away time from the client who is already in your chair if you have to stop to answer the phone and book an appointment.
2. I Don't Want To Force Them To Rebook
You can never force a client to rebook. A simple suggestion goes a long way. A client will tell you they would rather not rebook at this time, if they don't want to.
3. I Feel Pushy
It's your business; if you don't suggest a rebook then you aren't completing your service. It's not pushy. It's professional.
4. My Clients Have Crazy Schedules And Will Call When They Are Ready
Most clients have very busy schedules these days. Between jobs, family obligations and outside activities, we are all busy. That's why it's very important to communicate how important it is for them to carve out time in their hectic schedules for themselves to get pampered and feel good.
5. I Like My Schedule Flexible, For My Client's Convenience
Having a flexible schedule is great, but it can create huge gaps in your schedule. By rebooking your clients, you can eliminate those big gaps and have a bit more control over time wasted. If you rebook immediately, your busy clients won't be waiting to get an appointment in those periods where you may be full-up, which makes it a lot more convenient for them!
6. I'm Shy
Being shy is just an excuse. I'm sorry people, you got through school, perfected your craft and somehow you survived being shy. I really think shy means not wanting to be rejected. No one likes rejection, so the "I'm shy" excuse gets you off the hook. NOT!
7. I Forget
Forgetting to rebook happens quite often. We get to the checkout desk, we start chatting and collect the fee for the service, the client is so happy with their lashes or brows that they can hardly keep their feet on the floor. Now you have been distracted, your next client is waiting for you and BOOM… you forgot… again!
8. They Will Just Forget Anyway
No one likes a no-show, so make sure you have a reminder system in place for their appointments. An automatic email, text message, or a letter you can send out to them to remind them of up-coming appointments is an easy way to make sure they will turn up. Or, before they leave the salon, you can remind them to pop the date in their calendars. If the service is important to them, they won't forget!
9. They Will Probably Cancel
OK. Sometimes clients will cancel a pre-booked appointment. It happens. That should never stop you from getting in the habit of offering. If you value your client, you have to invite them back. This is what will set you apart from all the others who do not offer rebooking. Cancellations happen very rarely, once they are an established client, and you have developed a great relationship.
10. I Just Don't Want To Take The Time, I'm Too Busy
I just don't have the time, I'm too busy. What? Are you kidding me? Really? Wow, I have actually heard salon professionals use this line during a coaching session. You can never be too busy to rebook a client. I have been extremely busy at check out, but NEVER forget to rebook. I may have to scribble the date and time down, and get back to it when I get a minute, but I never forget, ever.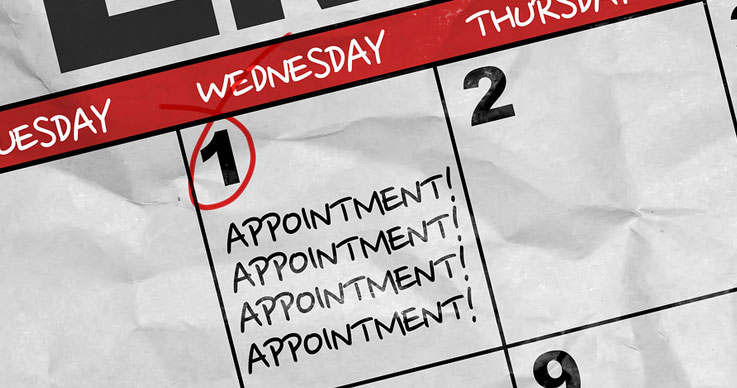 A Real Life Salon Coaching Success Story
I have three chairs in my salon. I rent these chairs out, so I am not anyone's boss or employer. I am, however, a bit nosey. I listen to the conversations that my fellow salon professionals have with their clients. To my astonishment, the content of the exchange is mostly about the person performing the service – their kids, significant other, money worries, relationship problems, etcetera.
My head sometimes wants to pop! All I can think about is, "why don't they just shut up?". I am certain the client feels the same way. Unfortunately for me, I'm there all day listening to the constant chattering about all the problems the salon professional has.
I decided to do something about it, and I took a very bold step and asked permission to give a bit of coaching. I suggested that the salon professional ask each and every client to rebook their next appointment. I waited until closer to the holidays to do this because it is usually much harder to get an appointment at the day and time the client wants due to this time of year being generally busier. The salon professional eagerly agreed to my experiment.
After each client was finished, after payment was made, she asked for the rebook. Here is the exact language she used:
Ms. Jones, it looks like we are seeing you every three weeks on Tuesday, you know, with the holidays getting close, we need to get you booked for your next three appointments. If we don't get them booked, I can't guarantee I will have a place for you. I get extremely busy at this time of year.
Guess what? It worked! Not only did her clients book three appointments, they are now booked for the entire year. Needless to say, this simple tool turned a corner in this salon professional's career. She now is 70% pre-booked and has raised her prices. What a difference a conversation about the client's needs made in her life. I have to tell you, I felt proud to see her grow and become a more polished salon professional. If you are feeling confident with the way your year is shaping up, find out more about raising your prices in one of my previous articles, here.
What Do You Want Your Business To Look Like?
Are there going to be times when it is a little slow? Yes. Absolutely. Things are cyclical in the salon industry. There will be times when a client just disappears. I discussed this in a previous post – with tips on how to keep clientele! That is why teaching your clients that you are serious about your business is so important. You ultimately decide what you want your business to look like. You are in control. Your business can be a work in progress, a disaster waiting to happen, or a smooth running, well-oiled machine.
After reading this, I hope you come away with newfound confidence to ask each and every client to come back and see you. Complete your service with a "thank you" and… "Let's get that next appointment booked in for you!"
Are you successfully rebooking your clients, or are you struggling to make the change you need, to get your clients back to the salon regularly? We would love for you to share your stories with us, and any tips that you find help you rebook!
Read Part 6: How to Find the Best Vendor for your Lash Business