In 2016, we conducted the first ever international survey of lash and brow artists to better understand our place in the beauty industry. Five years on, today we launch the Professional Lash and Brow Artists' Industry Survey 2021, a GladGirl initiative supported by our sponsor Glamcor.
We know the past year has been tough on many businesses – We are listening. What are the issues affecting your work? How has your business fared throughout the pandemic? What trends are you loving right now?
Take the survey, below, and let us know what you think about working as a lash/brow artist in 2021. There are incentives and prizes for your participation, of course! Keep reading, Lash Lover…
It doesn't matter if you've been in the game for 1 or 10 years, if it's your full time job, or a side hustle, we'd love to hear from you so we uncover the full picture of the industry and issues, both the good and where we can improve.
Our Goal
We will conduct the survey of the next two months to get as many responses as possible. Then we will analyse the data and share the results with the industry, through blog posts and articles here on the GladGirl blog.
GladGirl, with over 30 years in the industry, is committed to giving back to our incredible industry and to your professional development. We want to keep advancing our industry, this is what drives us.
What We'll Do
Conduct the survey as broadly as possible within our industry
Analyze the results, and compile and publish articles detailing the issues.
Make the articles available to technicians like you, industry organizations, associations, education providers, and vendors.
Who Can Take the Survey?
We are looking for professional lash and brow artists, and business owners to participate. It doesn't matter if you do two or twenty sets a week, or if you do mega volume extensions or strip lashes, we want to know about all of your experiences. There's something in it for you too, read on…
Prizes
As a thank you for your time and contribution, you'll go into the draw to win some amazing prizes from GladGirl and our sponsor Glamcor – the best lighting solutions in beauty.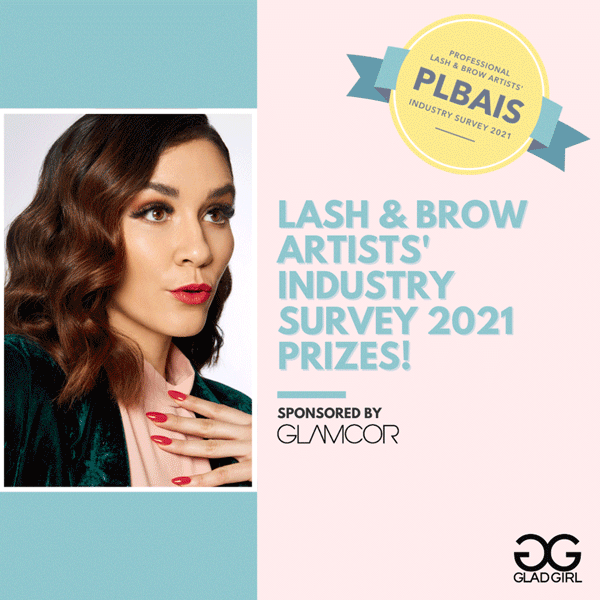 2 lucky winners will take away a Glamcor Revolution X Light Kit valued at $270 each, courtesy of our sponsor Glamcor.
5 lucky winners will receive 2000 GladGirl Rewards Bonus Points valued at $100 each, to be used online or in-store at GladGirl.
10 runners-up will receive a Be Eye Beautiful False Lash & Makeup Gift Set valued at $78.
20 runners-up will receive a Glad Lash Aftercare Kit valued at $29
EVERYONE* who completes the survey will receive a 10% Off Coupon Code for use on gladgirl.com, valid for 3 months from the completion of the survey.
Of course, these rewards are for participation only, and should not in any way bias the answers you provide in the survey. We want to hear it all, and yes, we can handle the truth! *See full Terms and Conditions for prizes here.
Thank You Glamcor
A special thank you and big shout out goes out to Glamcor, the official sponsor of the Professional Lash and Brow Artist's Industry Survey 2021. Glamcor is the industry leader in professional salon lighting, used by industry giants like L'oreal, Lancome, MAC, Bobbi Brown, to name a few… Glamcor has a long association with GladGirl, having also sponsored the 2016 survey. Glamcor has provided 2 Revolution X Light Kits valued at $270 each as our major prizes! Thank you Glamcor.

Take the Survey Now
We really hope you can take five minutes to complete the survey and share your thoughts about the industry that we all care so much about. Don't miss your opportunity to tell us what you really think, we are listening…