You've seen your friend look amazing wearing them, and heard her raving about how great they are… And, for good reason! Something that seemed like a fad not so long ago has now become a beauty must. One thing we can happily say for sure is that lash extensions are here to stay!
So, let's answer your burning questions about this popular service:
How Much are Eyelash Extensions?
The cost of a full set of lash extensions can vary depending on skill level, location and the type of product the lash artist is using.
Glad Lash collected data from lash artists in the U.S., Canada, and elsewhere around the globe through an Industry Survey. We can now share the results with you, to help you get a better idea of what you can expect to pay…
It turns out, the industry average is between $81 and $120. Initially, you will pay more upfront for your full set. There's usually a consultation first, which will include a screening to make sure you are a suitable candidate for the service. On your first visit, the service will take your lash artist around one-and-a-half to two hours. During the process, you will be laying with your eyes closed relaxing, while getting beautified. Most clients enjoy this time to unwind.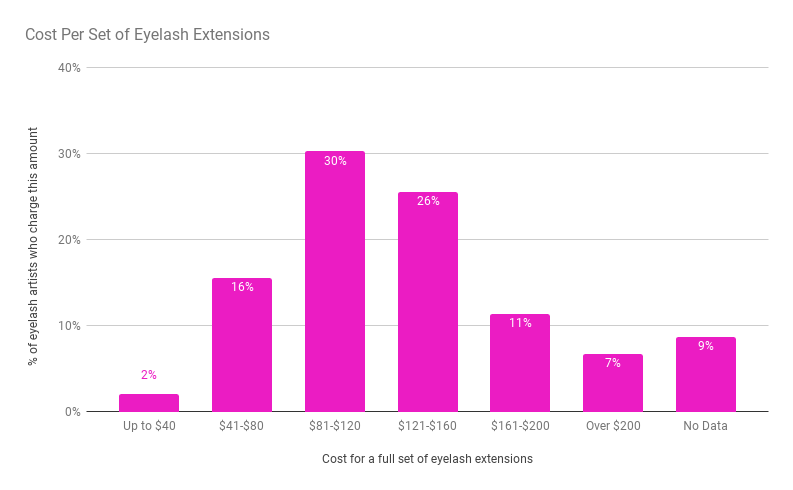 What's the Cost of Maintaining My New Look?
Lash extensions will require regular maintenance, in line with your lashes' natural growth cycle. This maintenance will be called an "infill", "refill", "fill-in" or any number of other terms. This service is required to keep your lashes looking full and fluffy. Natural lashes shed just like the hair on your head. As you shed lashes, you are also shedding the attached lash extensions. Therefore, the lost lash extensions will be replaced by new, fresh ones. Extensions will be cleaned and groomed, and any loose lashes will be removed and replaced. This is all a normal part of the process.
It will take your lash artist 45 minutes to an hour or more, depending on the condition of your lash extensions. Generally, it's 50% of the initial time of a full set.
The fees for the service, according to the Glad Lash Survey, run between $41 and $80, on average. Again, these prices will vary from artist to artist. You will need to schedule this service every two to three weeks. Feel free to browse the Artist Directory by GladGirl to find talented specialists in your area.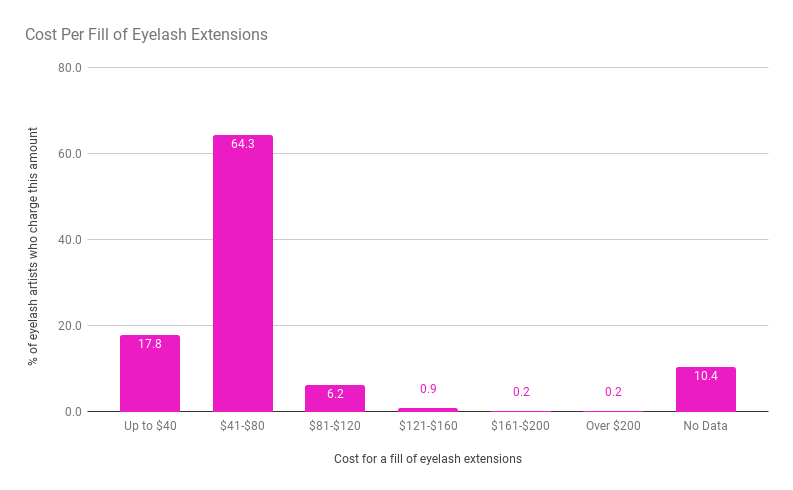 Find an Artist and Get Lashed!
Heard enough and ready to go and get your first full-set?!? You can find an eyelash extensions artist near you using the Artist Directory which features eyelash artist across the US and internationally.
Why Do Prices Vary So Much?
As mentioned above, there are three main reasons why the price of a full set or a refill differ between lash technicians. Like many other services, pricing relies on:
Experience
Location
Product
Experience
A recent graduate of lash extension training will start out at about 50% of what a seasoned lash artist will be charging. New lashers will be slower, extremely cautious and a little nervous. They may not be getting the maximum number of lashes on that a seasoned lash artist will. Most newbies will get about 45-60 per eye, depending on the time spent. Seasoned experts will fill every available healthy lash. We don't count how many, we just fill them up!
Keeping this in mind, it only makes sense that a newer lash artist will be charging a fee that is much less in the beginning. As they improve their skills and timing – they will raise their prices.
Location
You can expect to pay more in major cities than in a rural town. Some of the factors that play into these price differences are:
Cost of space to perform the service
Cost of shipping supplies
Demand for the service
You will also find, the highest price for a full set of lash extensions will be at high-end resorts or spas. These type of businesses always set their fees higher due to the premium to stay there. People expect to pay more at resorts, so they charge accordingly.
Product
This one's fairly self-explanatory. Lash artists who are using more expensive products are going to be charging more for their services to cover these costs. It's worth mentioning, however, that simply paying more doesn't mean you're guaranteed higher quality. So shop around and be informed.
How Do I Look After My Eyelash Extensions?
To get the maximum life and value out of your extensions, they do require after care. We recommend that you get specific products to take home and use – to keep your lashes in the best shape. Your lash technician should suggest, recommend, and retail aftercare products.
An oil-free makeup remover is a must! I recommend the Glad Lash After Care Kit. This kit has all the things you will need to keep your lashes clean and fresh between your maintenance appointments. Your lash artist should give you a take-home sheet or written instructions stating which products you should use, and what you need to stay away from.
Anything oily will wreak havoc on your lashes. Heat, humidity, and extreme cold all play a factor in how well your lashes hold up. Doing your part to keep your lashes squeaky clean, brushed out, and pretty will help determine how often you will need to schedule your refills. After care kits can cost around $25-$30 on average. This is a great investment for you if you are serious about your lash extensions.
A satin pillowcase will help keep your lashes from being crushed. A sleep mask is also a great tool for those face sleepers. Sleep masks have indented areas for the eye area – this keeps you from laying on the lashes and flattening them as you sleep. The satin pillowcases are soft and slippery – they keep the lashes from getting tugged at with the cotton or cotton blend materials used in modern day bedding. Both items are a very good investment.
What if I Need a Break from Lash Extensions?
If your lash tech is following the application protocols, you shouldn't need to take a break. However, you may want to or feel the need to stop for a while… Here are some tips for how to do it:
Protect your Lashes
A lash growth serum is always recommended. This will help grow new lashes, and let those already long lashes get a bit longer. These serums can be a bit pricey, but a solid result is worth the cost. They can run from $80-$150. Use until your lashes have grown out strong and healthy – 60 to 90 days is usually recommended.
Strip Lashes
If you have had an allergic reaction to the lash adhesive then you will need an alternative to lash extensions. Your lash artist can and should offer an alternative service for this very occasion. Strip lashes, also known as false lashes, may be a suitable option. Strip lashes are meant to be applied on a daily basis. They can be easy to apply, but are sometimes a bit trickier until you get the correct look and size that works for you. Strip lashes come in many looks from natural to the most dramatic and everything in between. Ask your lash artist to give you direction on which lashes would be suitable for you.
I usually put them on my clients who cannot wear lash extensions after I remove the extensions. I have found that after wearing extensions my clients feel a bit bare if they leave without anything. They feel a little sad, and now have to resume the mascara part of their beauty routine.
I hope this has answered some of your questions on the cost, care and maintenance of the beauty treatment that is eyelash extensions! If you would like to know more about these topics, please ask away in the comments section below. We love to hear from you!