Got a moment to take a breather with me? You may be wondering what breathing has to do with your eyelash extension practice. The answer is everything!
Teaching my last eyelash course, I noticed my students in so much body discomfort. Only a couple hours into class, aches and pains were inhibiting our productivity. The students began to share their body woes, so we took our lunch break a little early. Afterwards, I led us into some stretching, and I began to discuss the best body mechanics for working. It was then, I decided that this wellness and ergonomics series would begin with the breath.
Relaxation Equals Healing
As eyelash artists, we have numerous body issues to be aware of, and be proactive about. It is a blessing to do something we love, but not if it's causing chronic pain. Some of the body's indications you are experiencing may include, but are not limited to: upper and lower back pain, wrist and neck strain, and other nerve sensations – like sciatica, and tingling in your hands.
The body's relaxation response is a shortcut to healing. We must be able to stay relaxed. The circulation you receive from quality breathing is the foundation of being healthy. I am here to tell you, you do not have to be in pain.
A lot of the discomfort throughout the body from eye-lashing – as far as your structure goes – is due to poor mobility in the thoracic spine, located in your upper back. A quick way to begin to get more circulation to your thoracic spine, to begin your body's healing process, is to take a deep breath.
"All you gotta do is breathe. Breathe as if your life depended on it… because it does."

– Ron Fletcher
Breathing 101
Let's try some basic deep breathing together. If you are not already sitting down, take a seat before beginning. If you are currently a stingy breather, you may get light-headed. Sit with your spine straight, cross legged on the floor, if possible. If not, comfortably in a chair will do.
Sitting? Cool. Let go of any tension you are holding in your neck, back, shoulders, and face. For this breathing exercise we will be inhaling through the nose, and exhaling out of the mouth – exhaling like you are gently blowing out a candle. Imagine you have an air tank, just below your shoulder blades, at the center of your back. Imagine taking in air from this point.  
Inhale – to a count of ten, in equal parts. Gradually fill your lungs and diaphragm to your maximum capacity.
Exhale – to a count of ten, in equal parts. Ring out every last drop of air you have inside of you.
Continuing this deep breathing, close your eyes for EIGHT full inhalations and exhalations. While taking these eight breaths, BE OBSERVANT. Notice what moves freely… What parts don't move… and, where you are tight. When you have finished, open your eyes and really take in your environment for a moment. Take note of the spaces in your body that feel tight. Again with your eyes closed, take four more breaths – consciously pressing your air to the spaces you noted are more tense.
You may now feel like you have taken a trip to the oxygen bar. Did you know that observing just one inhalation and exhalation is meditating? If you've never meditated before, consciously deep breathing, twice daily, is a great place to start. Having a meditation practice is known to change a person's time perception – stretching minutes – which can lead to increased work productivity. Being calm is a super power 🙂
Of course, when you are with a client, it's preferable to NOT be a mouth breather. While you work, when possible, inhale and exhale through the nose. A great perk to nose breathing is that you can create an ocean-like sound in the back of your throat. This breath is known as the 'ujjayi breath'. Ujjayi breathing has an instant calming effect on your nervous system – a great go-to for any moment you may be feeling frazzled.

Breathing to Move
Now that we've had some practice with deep breathing, let's move onto step two: putting your breath in motion. This is the process of thinking of the breath as what moves you, instead of breathing while you move.
Here are some ideas on how to move using the above breathing technique we just practiced. The items listed below will help you relax your body during your work day, especially during those marathon eye-lashing days.
Go for a walk on flat ground
Walking on flat ground, opposed to an incline, allows your hips to release. If possible get in two 15 minute walks a day. If you feel your hips start to tighten while you are working, even a couple of minutes between appointments of walking with quality breath can clear your head and reset your body.
Door frame stretch
This is something we should all do at least once each day, if possible, between each client.
Connect the length of your forearms with the door frame. Your elbows should be aligned with your shoulder in the shape of a goal post. See the picture below. I'm in an extra-wide door frame, your hands and elbows should be aligned as well.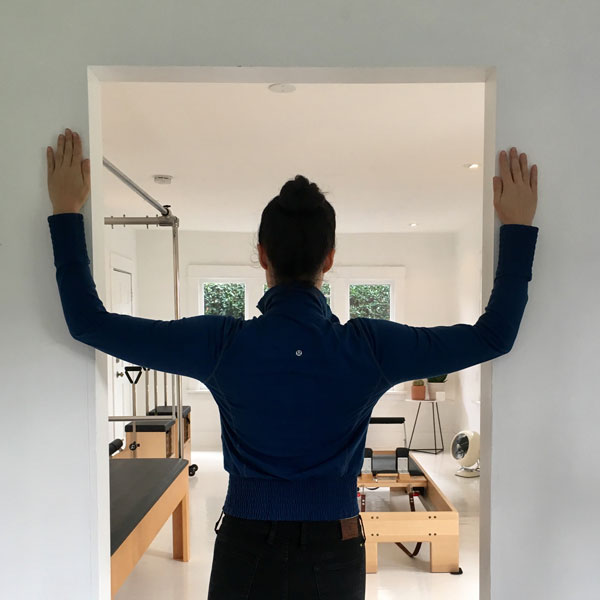 Using the breath we practiced above, step forward with one leg lunging forward, pressing your chest through the door. DO NOT arch your back. Breathe for four breaths, relaxing and allowing your chest to expand. Return to standing, lunge forward with your opposite leg, and breathe for four more full breaths.  
This stretch is good for just about anyone. If you are currently experiencing low back discomfort do not do the lunge portion. Instead, just press your chest gently through the door frame, keeping your legs together.
Continue to mindfully breathe in all movement you do
Deep breathing can be done anytime, anywhere… Standing in the bank queue or stopped at a red light. Challenge yourself for the next 30 days to take deeper, more quality breaths. We are nature, the best evidence of this is the breath coming through us. There is unlimited possibility and power when we are aligned with nature. Being aware of this thought summons gratitude.
Coming up in the next installment of Move, Lash, BE Better: We're going to talk about how to sit and move while you work! Also, I'll provide you with some great daily exercises to strengthen your eye-lashing endurance.
Until next time, happy breathing 😉 xo