Makeup brushes… Let's get into it! What are they made of? How do we use them properly?  And, how do we keep them clean? These are all good questions, I intend to answer for you today.
Makeup brushes are made from either natural or synthetic material. Each type can offer different benefits for makeup application. With so many brands and kinds to choose from, hopefully this information will help you make an informed decision if you are in need of new brushes.
The Virtues of Natural Brushes
Natural brushes are usually made from animal hair. Brands that carry these are, and should be, cruelty free. These brushes are durable and can work better the more you use them. Powders like eyeshadows, setting powders, and bronzers are best paired with a natural hair brush. Blending products is easier with a natural hair brush. All in all, natural brushes are very pleasurable to have as a tool.
The Benefits of Synthetic Brushes
Synthetic brushes are made from nylon or other synthetic material – man-made ingredients! They are great to use with creams or makeup that needs to be wet or is liquid, like foundations or concealers. They give more precision in application. Keep in mind, synthetic brushes tend to be less expensive as well, so won't hurt your wallet as much.

For Lashes
The new GladGirl Eyelash Cleansing brush is a synthetic brush for the after care of eyelash extensions. Use it with your lash shampoo for gentle yet effective cleaning.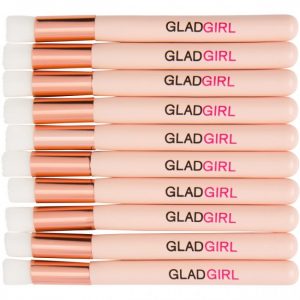 Makeup Brush Hygiene
Cleaning our brushes is an extremely important thing to do. We don't want bacteria to be applied onto our faces and we want our makeup brushes and makeup products to last as long as they can.
If you have natural hair brushes, you want to clean them delicately, without the use of alcohol – which will damage these bristles. Use baby shampoo with lukewarm water to lather up and wash them. Then dab the brush on paper towel and let dry.
For synthetic brushes, you are going to want to use a brush cleaner, like Parian Spirit, that contains alcohol and will help disinfect as well as clean. Parian Spirit will help break down makeup products on brushes, and you can wipe away clean on a paper towel and let dry for a couple of hours. I personally love Parian Spirit. It not only cleans well, but also smells good. I have received many compliments regarding the scent. Being in clients' faces a lot, smell is important.
Get the Complete Set
Try Glad Lash's Professional Seven Piece Sable Brush Set and get your all-in-one makeup brush kit. It will not disappoint. There is every type of brush needed to make a makeup statement!
I hope this has helped! If you have any questions regarding your makeup brushes and how to clean them, leave a comment in the section below and I will get back to you!