Many of us are afraid to fill in our eyebrows and create what we call the frame of the face. It can be daunting, with so many ways to build brows… You can use eyebrow pencils, pomades, powders, colored mascaras, and even microblading! The tool that you feel most comfortable with is for you to decide, but the basics still apply. Let me run you through them in four easy steps:
1. The Inner Side
Take your GladGirl Be Brow Beautiful – Retractable Micro Pencil, and use the brush side to comb down your eyebrow hairs. With your pencil lined up to your nose vertically, make a mark where the eyebrow should start. This mark should be similar to where the inner corner of your eye is, but higher up (obviously).
2. The Arch
Next, put the pencil vertically to the side of your nose again, and move the top of the pencil to the middle of the eye. Wherever the pencil lands is where the arch should be created. Moving from the start of the brow to the middle should make an invisible V shape.
3. The Outside
Repeat the method again, this time to the end of your brow. Move the pencil to where the end of your eye is or the outer corner. Where the pencil lands – following that diagonal line – is where you place your last mark with the eyebrow pencil.
4. Connect the Dots
This gives you a great outline to follow. Fill in your eyebrows accordingly with whichever method suits you. The thickness of the eyebrow is completely up to you.
It takes a couple of tries to get the hang of, but you can do it! If you mess up, no problem… Just take some concealer on a flat edge brush, and pat away. Brow mishap no more! Also, remember to try and match the color of your eyebrows to the color of your hair – if you would like a more natural look.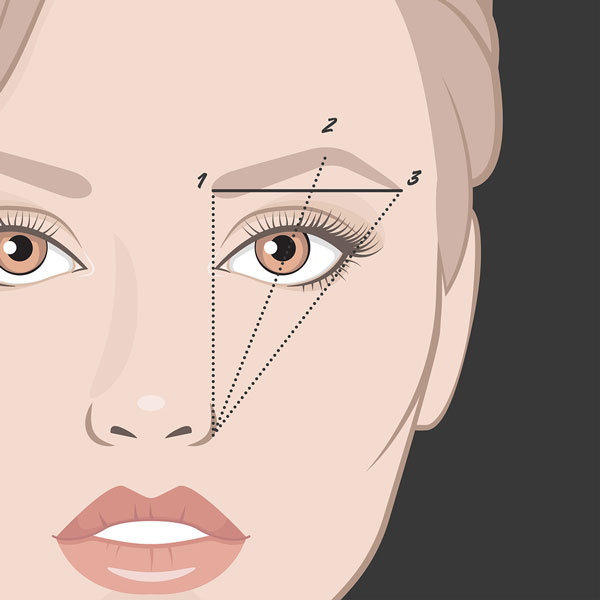 Pro Tip
It's always a great idea to use a clear mascara to set your eyebrows, after you fill them in. This will keep them in place nicely.
In my opinion, if you've got brows, lashes, and lips on point… Then, all you need this summer is a cool drink – with an umbrella in it – and you are good to go! If you have any questions about this technique or would like to share your experiences creating perfect eyebrow shapes, please leave a comment below, and I will be in touch.