In May I had the opportunity to collaborate with a group of wedding vendors to create a styled shoot. This was on my "wish list" for 2019, so imagine how excited I was to have this actually come to fruition! I am thrilled to share the story and inspiration from this styled shoot that was published on Green Wedding Shoes this month which is a HUGE deal in the wedding biz! This is the end goal, to get your work published in a capacity that curates wedding creativity and of course for those who are getting married and other wedding pros to see and be inspired.
[promo_banner1]
So What's a Styled Shoot?
A styled shoot is basically when a wedding vision gets brought to life through collaborative efforts. The person at the helm, who is usually a wedding planner, trusts the vendors involved to put their unique spin on the overall theme brought to us by said planner. From drinks to food to "tablescapes" to the actual flowers… everything becomes complimentary to the theme and inspiration ensues!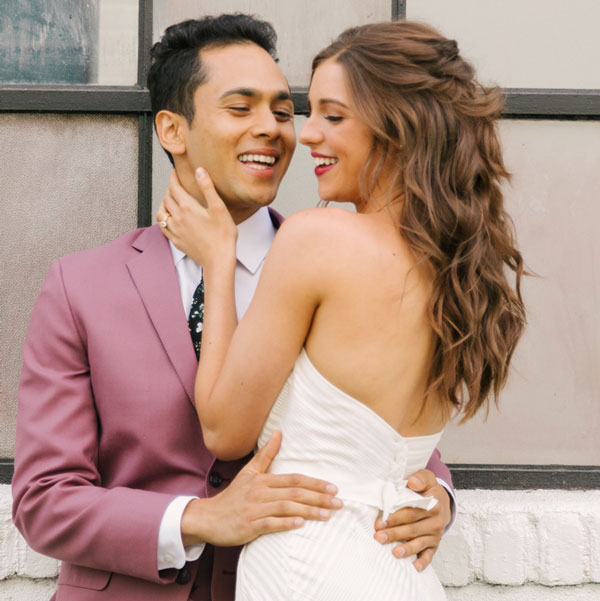 The color palette was corals which has been one of the season's most popular go-to schemes and at the centerpiece of this all was this bridal jumpsuit that in my opinion was incredible! Sexy and sophisticated. A very different spin for a modern bride!
We start by taking a look at a vision board that is created so the wedding pros can vibe off of it and get a sense of the overall take on the shoot. This is always so helpful because being a visual person, it really gets my creative juices flowing.
The Big Day
The day arrives and the visuals start becoming a reality and the models are ready to begin makeup and hair. Julie who did hair kept the model's hair down and curled with a couple of pieces pulled back. It was so feminine and the perfect look.  As the makeup artist, I always try to enhance one's beauty for their wedding day, not over do it, so I kept my model in the GLOW Up natural makeup zone. She was lovely and really let me play. I of course used complimentary colors to her skin tone and color palette selected for the shoot. I paid attention to the floral colors to work off of in order to have a cohesive beauty story. I used rose golds and browns and a deep red but still a bright color on the lips to work off of the groom's kick ass color suit! And of course I have to mention her lashes! I used GladGirl's strip lashes in Demi Whispy to add volume and depth to her gaze without going overboard. The perfect accent to her bridal makeup.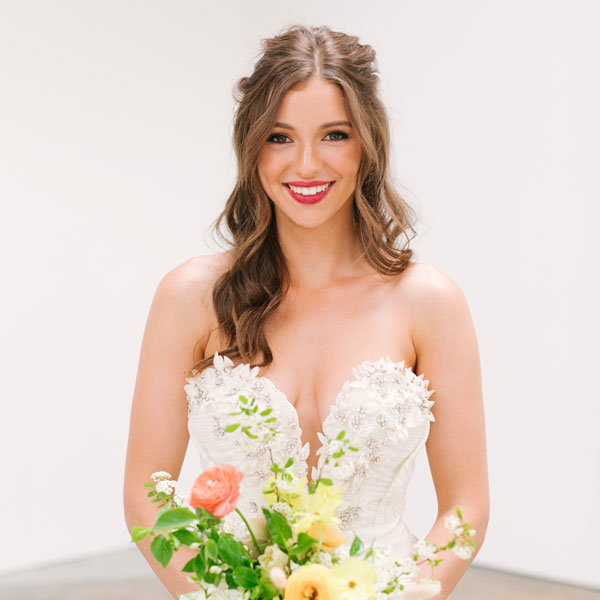 His lavender suit from Friar Tux was such a cool way to work off of the colors presented but to also give a fresh take on the whole suit vibe. A modern take if you will.
So, now you have iPhone boomerangs, pics and all sorts of media that you can't wait to share with the world from an awesome day of collaboration but you can't post anything really because until you get published, you need to keep as much hush hush as possible. I almost burst at the seems because I was so excited at what we accomplished.
So without further ado, here is the link to our Whimsical Wedding Inspiration with a Rad Bridal Jumpsuit post where you can read more about the shoot and inspiration behind each featured picture!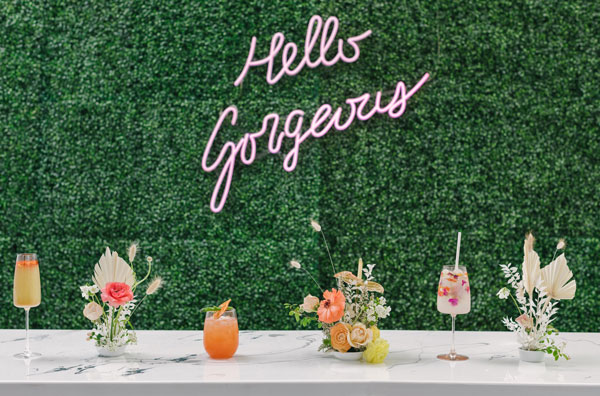 The Vendors
Here is the list of amazing and talented vendors that made this possible…
Venue: East Angel: @theeastangel
Concept, Design & Planning: @moxiebrightevents
Photography: @aureliadamorephotography
Videography: @leiraproductions
Floral Design: @foxglovesandfolly
Catering & Bar: @goodgraciousevents
Tabletop Rentals: @greystonetable
Rentals: @lapinataparty
Linens: @latavolalinen
Invitations/Paper Goods: @aardvarkletterpress
Cake: @nicolebakescakes
Hair: @makeupbyjuliehirji
Makeup: @makeupthebride
Bridal Attire & Veil: @amandajamesdesign
Suit & Accessories:  @friartux
Ring: @singlestonela
Ribbon: @lingsmoment
PA: @faithoswald
Models: @brand_models
Bride: @elenasafavi
Groom: @justinimbastari
Published: @greenweddingshoes