To all my GladGirl Coachella enthusiasts, can we talk about beauty trends of this over-the-top music, art, and fun festival? Every year, trendsetters hit the road to get into the summer vibe at Coachella in Indio, California. Everywhere you turn are larger than life performances, art installations, and beauty looks! This is the place to find your summer beauty inspo for sure.
Braid it OUT
If you go to the Coachella website, check out The Salon where you can get FREE braids, curls, and festival fun hair for your outdoor pleasure. If this isn't a beauty-centric sign, I don't know what is. The hair trends that you will want are, of course, braids on braids on braids. The sky is the limit! You can intertwine color to integrate them into your whole look to make it funky. You can also do a twist or two in your hair to mix up the texture and vibe. Accessories are always an added statement to these styles as well. Chunky headbands, as seen on Ariana Grande, butterfly clips, beads, and braid rings are a fantastic way to further bling out your DO!

Fashion Threads
Clothes can be as much as a statement-making piece as your beauty look. People tend to go over the top with their Coachella outfits. Neon, netting, assless chaps – you can and will see everything and anything out there on the field. If you own it, you are winning whatever your fashion choices are on that day. Remember, Indio is in the desert and it's hot out there, so when putting an outfit together, the theory is less rather than more. A lot of influencers and brands come together at this festival to promote each other and spread brand awareness. You can imagine what this may bring to the table.
Make it Up Your Way
Now let's talk makeup! Beauty in the desert is very inspiring. You will see bright and colorful eyeliner, graphic eyeliner looks, glitter under the eyes that add sparkle and gem designs or cute holographic decals on the face. These add a fun and exciting element that can take you into summer, anytime.
Long Lasting Lashes
And of course, we could never forget LASHES! Be bold and daring with GladGirl's July or August themed strip lashes for that LASH Dazzle effect! They are also vegan and cruelty-free. Love!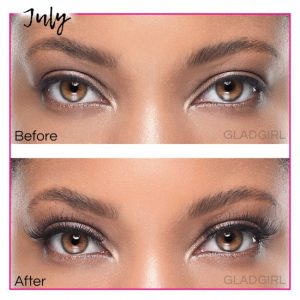 The bold and the beautiful is what I think of when speaking about Coachella beauty. This is an outdoor arena where you can push the trends and still stand out while blending in as a festival goer.
Coachella brings that summer vibe inspiration to beauty everywhere you look. From fashion to beauty, you can take that WEEKEND look into your summer look. Be adventurous and, as always, Be YOUtiful!