Glad Lash pulled some very interesting stats from the Industry Survey. We saw very clearly that our lash artists are extending themselves by offering quite a variety of services!
These are the most popular services currently being offered by salon professionals who also perform lash extension services, in order:
Classic Lash Extensions
Eyebrow Waxing
Volume Lashes
Eyelash Tinting
Strip Lashes
Eyelash Perming
Flare Lashes
Eyebrow Extensions
Microblading
Eyebrow Threading
Permanent Makeup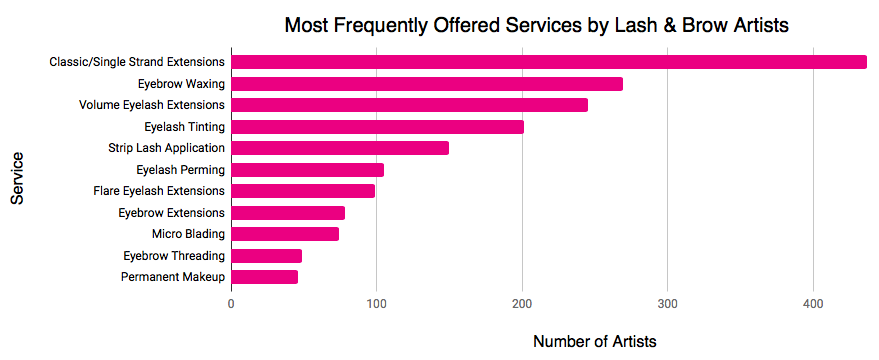 Source: Professional Lash & Bow Artists Industry Survey
With these sought after services in mind, let's take a look at emerging services that are making waves in the beauty industry. Maybe you'll consider adding some of these services to your card to boost your business?
1. Red Light Therapy
Who doesn't get excited by the idea of innovative, anti-aging, noninvasive beauty treatments? I know I get super geeked when I can get my hands on something new that I can incorporate into my salon's menu.
I love checking out services that add value and deliver results. Red light therapy sends red, low light wavelengths through the skin and stimulates cell rejuvenation, collagen production and increases blood flow. This is a painless procedure that involves safe, non-thermal treatment, with the end result being the reduction of wrinkles and fine lines.
Who doesn't want to offer this service to their clients?

2. Micro-Needling
Micro-needling involves puncturing hundreds of tiny holes on the skin. The device used looks like a paint roller, with tiny needles that puncture the surface of the skin. These pinpricks allow serums to penetrate deeper into the skin, and cause the body to go into the healing process, stimulating the production of collagen and elastin. This service diminishes fine lines and wrinkles, leaving the skin smoother than it was before. I'm told it looks pretty rough but is relatively painless!
3. Ultrasonic Treatments
Ultrasonic treatments have been around for quite some time but are having a resurgence. Ultrasonic treatment can serve as a skin exfoliator and can send treatments deeper into the skin than other application techniques.  The emitted ultrasonic waves cause the skin to draw in the applied serums, release dead skin cells and receive chemical-free exfoliation.  This is one of my favorite ways to help remove comedones and blackheads without squeezing or using an extractor! This is also great for clients who are sensitive to cleansers, creams, and serums. One thing to note is that you must keep the skin moist with this service or else you might burn your client. The ultrasonic vibrations will shimmy the oil and debris right out of their pores!

4. Targeted Masks
Masks are here to stay! Everywhere you look, there are Masks for almost every part of the body. There are masks made for the lips, chest, arms, breasts, and even hands. These targeted treatments allow the client to improve the areas they feel need attention. Loaded with advanced formulas and eco-friendly ingredients such as organic and hyaluronic acid, peptides and niacinamide, these masks are on a new level. Look for sustainably harvested ingredients to become mainstream in the future, as environmentally safe products will soon be the norm in the development of skin care products.  I am keeping an eye out for the debut of new products with organically grown ingredients from sustainable farms. First we had the "farm to table" restaurant trend, now it's time for the "farm to salon" trend!
5. Micro-Pigmentation
This is an amazing treatment that can really change lives. Micro-pigmentation is a process where a balding scalp is tattooed by adding pigment to the hair follicle space and pore. This is done painstakingly, pore by pore, to create the look of hair stubble. This creates a shadow-like illusion that makes it seem as if the client's hair has been cut very close to the scalp.
What Will You Offer Next?
Time and technology are bringing more developing trends into the beauty space. Keeping an eye on what clients want as times change is paramount to your business, as you don't want to be the last one to learn about a new and lucrative beauty practice. As a salon professional, have you thought of adding new services to your menu, and would you consider adding one of these emerging trends to your skill set? Let us know your thoughts!