Anticipation has been high, as has nervous energy. Waiting for something to happen can make everything feel much more daunting than the actual, happening itself. The wait is over Lash Lovers, and we can once again start working. But how?
With very few best-practice sanitation guidelines in place for salons or brow/lash bars, the ins-outs of ensuring safety for yourself, loved ones at home and clients can seem overwhelming. But with some strict and consistent measures, you can do your part to best keep everyone protected and safe.
As our profession requires such close proximity and contact, over an extended period of time, in the age of COVID-19, taking steps to legally protect your business as well as maintain a sanitized, safe environment is so important.
We suggest establishing a sanitation standard and best practice protocol for your space. Though establishing this standard is important, strictly adhering to it and maintaining it without exception is critical. If you stay disciplined, it will become habit and an effortless part of the service you provide for your clients.
COVID-19 Consent Form
Additionally, for the foreseeable future, for every single visit, it is vital to assess the health of your customers. This is where the client consent form comes into play. To make life easier, we have created a form template that you can use in your business. Download if for free here. Always have your client sign and date the form prior to their appointment. Having them fill out the form prior to the visit will help minimize any health risk or dispute. The form must be signed and dated otherwise it won't be legally binding. Have clients fill one out for every single appointment with the new date to ensure you are protected and your records remain current.
Health and Safety Guidelines
Share an updated 'Visitors Policy' with your clients so their understanding and expectations are clear. Below are some solid standards to follow and share on your website, emails, front door, text messages, etc.
Always reschedule the appointment if you are feeling unwell
No additional guest(s)
Wearing a mask is required upon arrival and during the entire procedure
Wash your hands upon arrival
Limit conversation during the procedure
Bring your own blanket if you need
Share a Health and Safety Guideline on Instagram, Facebook and any other platform your business utilizes.
 Here are the GladGirl COVID-19 Safety Guidelines for lash clients. Feel free to share this infographic.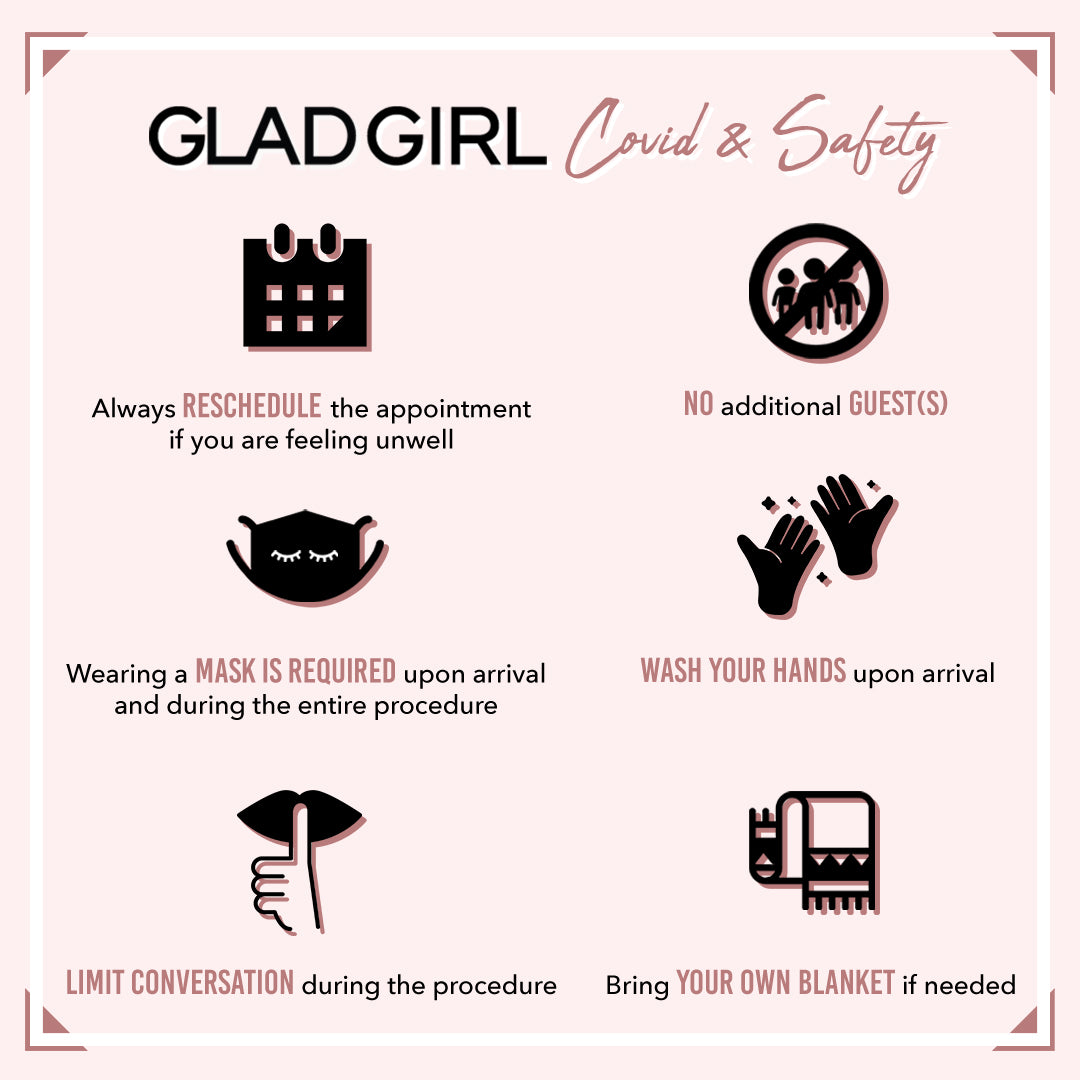 It may seem like a lot and feel stressful to enforce these guidelines, but in the long run you, your family, and your clients will be safer. These protocols will keep your business thriving as your clients will feel protected and at ease.
For more information see this helpful article from PBA or if in doubt seek professional advice or clarification from your local/state authorities.