GladGirl founder Esther Bolkin shared her thoughts on how the pandemic affected the eyelash extension supplies lash business with Ellen Sherberg a longtime reporter, editor and publisher at American City Business Journals, Bizwomen's parent company.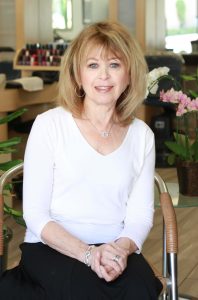 In Her Own Words: GladGirl's Esther Bolkin lashes out (successfully)
As the pandemic hits pause, women return to their routines, especially around health and beauty. But for some of the purveyors, such as Esther Bolkin of GladGirl, the routines have changed.
"The beauty industry is very personal and thrives on human interaction, especially for estheticians and cosmetologists who offer eyelash extensions. When COVID-19 mandates began in 2020, the very essence of our profession halted.
How did we get through? At first there was a rush as salons and spas stocked up on GladGirl supplies. Then as the salons closed and lash artists lost clients, we were forced to close our brick-and-mortar GladGirl stores and warehouses. I felt it was my responsibility to keep morale up amongst our employees and loyal customers of over 40 years. I wanted to find a way to help them remember there would be a future, and what we were all experiencing was a moment in time and that we would all get through this together.
First, we imagined what we could do to help strengthen our community, as many lash artists and salon owners were at home and not able to offer their services. We created several online tutorials of the newest lash and brow techniques, so that salon owners, estheticians and cosmetologists could practice these techniques during periods of isolation. We created strategic lash/brow practice kits so our lash artists could keep their skills sharp, learn new techniques, and not lose their touch. We knew this would help our community emerge from the pandemic with even stronger skills.
We set up a series of blogs to advise about how to work in this new Covid world. We urged independent lash artists to set up sanitation standards and best practice protocols and felt it was important to teach estheticians and cosmetologists how to legally protect themselves by creating COVID-19 consent forms and post health guidelines on their websites. We kept up to date on the current rules and regulations and informed our community of these updates along the way.
Curbside pickup was offered, and we staffed in-store and online customer service to serve our community whenever it was possible. The fact that our customers were willing to participate in curbside pick-up demonstrated how much they missed direct interaction with us. We knew there would be a moment that things would open again, and we wanted to be ready for our customers and connect with them face-to-face.
This led us to the decision to build a new GladGirl Store in Bedford, TX. We felt we could replicate the strategy and achievements of the first two Southern California stores and bring it to a new state – offering a new way to inspire lash and brow professionals, and consumers alike. While we were all nervous about how the store might perform in this new age of COVID, we were excited to open our doors to a whole new lash community.
Things are much better for the beauty industry today – salons have reopened, lash artists are working with clients, and our company is thriving once again. This whole experience made us even more grateful for our amazing community and reminded us why we love lashes and love what we do."